Products
ROG – ROLL'N'GRILL® – automatic grilling, automatic enjoyment
Precise cooking of meat, fish and vegetables: our fully automated grilling and roasting system guarantees you the best results every time, even with constant use – and is 100% fat free. For the perfect flavour that gets every customer coming back for more.
You benefit from

Technology
Innovative technology for fault-free long-term operation

Efficiency
Integrated self-cleaning functionality

Quality
Robust and long-lived thanks to high-quality stainless steel

Service
Extensive customer service
The advantages of ROG – ROLL'N'GRILL®:
Innovative technology for fat-free preparation of large quantities in short times (approx. 80 portions per hour)
Even temperature distribution and speed of cooking for perfect results every time
Practically made for long-term, constant use
Fantastically easy to use: fewer faults, more efficiency
Flexible in placement thanks to compact size
Comes as a stand-alone device or as a complete counter solution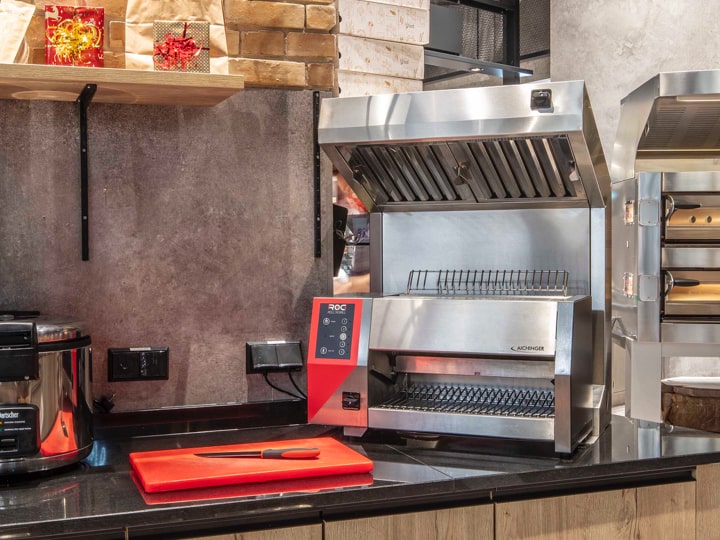 Facts and figures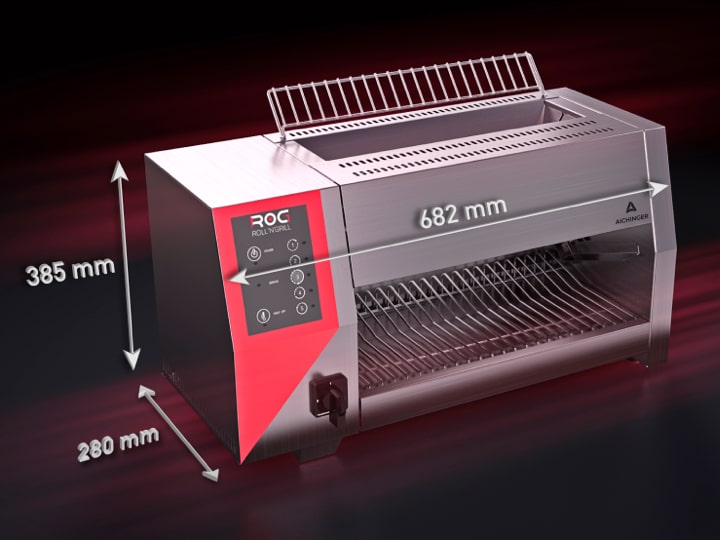 40 kg
Weight
5
Heat settings
5,5 kW
Wattage
400 V
Voltage
How our ROG grillrevolution works
The system behind the ROG uses three horizontally rotating, evenly heated frying surfaces. Whether vegetables, meat or fish: just insert your raw materials from above; while each product passes at equal speed through the machine, you can tend to your customers. In no time at all, the grilled food will exit the hot zone and be ready to serve. Perfectly cooked, succulent and wonderfully aromatic.
Discover
More
AICHINGER

products for your sales success

Get to know even more high-quality products with which you can bring your sales floor to the next level. For greater variety, buoyant sales and contented customers.
Are you interested in getting together for success?
No matter what shopfitting challenges you face, we have the perfect solution for you. Find out more about our expertise and our projects, products and services. Get in touch with our team using the contact form below. We will find the right person to answer your query and get back to you.
Many thanks for your query. We will be in touch.
An error occurred. Please try again later.
All fields are obligatory.
In possession of professional liability insurance
You consent hereby to the processing of your data to handle your request. You can find further information and instructions for withdrawal of consent in the data protection declaration.